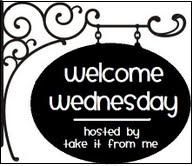 Another attempt by me at a blog hop. I'm still waiting for someone to tell me I'm screwing this thing up and doing it all wrong. Oh well, here goes nothing.....
Welcome to the "Welcome Wednesday" blog hop, hosted by Take It From Me! Welcome Wednesday is a great way to meet new people and learn new things as well as increase your blog followers! So let's have some fun!!
If you want to be a part of Welcome Wednesday, just follow these 5 simple steps:
1. Follow the Welcome Wednesday Host (Take It From Me) as well as the 2 Spotlighted Blogs of the Week. (These will make up the top three slots on the Linky)
2. Link up your blog name and URL with our Linky. (You only need to add your info once for it to be seen on all the blog hops)
3. Grab our Welcome Wednesday button and include it in a post about the event on your blog.
4. Go to as many blogs on the MckLinky as you want and Follow them. Be sure to tell them you are from Welcome Wednesday!
5. Be sure to Follow back any followers you have gained from our Welcome Wednesday event!
Okay, so here's my first attempt at Wordless Wednesday, although being Italian I'm not sure if I can keep my big mouth shut so I may have to post a caption or two.
Can you say Kung Fu fighting? (See, I knew I wouldn't be able to shut up).
More bars, in more places.
Oh crap, how'd one of me get in here?
Have you ever just felt stuck?
Like, REALLY stuck?
Sorry I couldn't zip my pie hole, hope you enjoyed Wordless Wednesday anyhow.